THINK: The Power of EASY!
Draped Jacket by Kathleen McCaughey
I have had my "Dummy Me" (aka Fabulous Fit® System) for a number years. I first used it for making outfits from commercial patterns fit better. Later, I began to drape my own outfits. In general, I have used the pads to create my own shape as anyone else would. One exception, I have sway back, so I actually added pads on the upper back to simulate this. Your system is highly configurable, which is why I like it.
I purchased a beautiful flannel wool that I wanted to make into a jacket with a draped front. My designs includes a raglan yoke, a draped front, and a circular cut back with extra fullness. The raglan yoke allowed me to include a separating zipper for jacket closure. The design also includes a high neck collar with a button closure opposite the zipper.
EASY & FABULOUS TO CREATE IN MANY FABRICS!
This is a wonderful way to create a sway back on your dress form. By adding pads to the upper back and lowering the hip pads, you can see how your clothes will disguise the sway back and enhance the shoulders.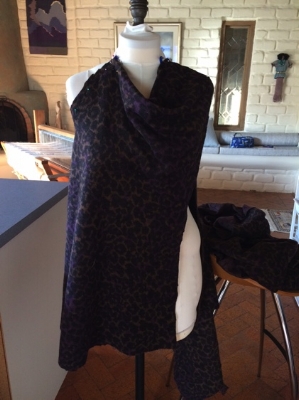 Draped Right Front
I cut an extra wide front piece. I lined up grain line with center front, and made sure I had adequate material to
wrap around side. Then, I played around with draping volume in front to side shoulder, until I got it where it fell
properly. I then cut raglan sleeve line, under arm, and front edge.
Left Front
Aligning grain with center front, I fitted the left front with side and vertical darts, making it fitted. Again, I cut sleeve, under arm, and edge. I wanted to keep the neck edge high so that it could be seen under the right front drape.
Yoke
I cut one piece to connect front and back. After getting the correct fit and pinning, I cut the excess off for a set sleeve.
After marking, I removed the sleeve, and cut a double. I also removed the fronts and back, and used all pieces (except right front) as pattern to cut the lining, and set aside. I sewed all together at the shoulder. I added the separating zipper at the left yoke. I also sewed the side seams. At this point, I did some detail work: top stitching seams, right front facing, cutting around neck...
EASY TO WEAR, FABULOUS WRAP!!