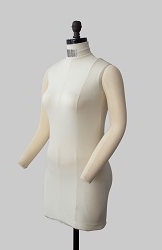 Bendable Mannequin Arms
Fabulous Fit offers a variety of customizable Bendable Arms to use with your dress form. These pinnable, bendable mannequin arms can be added to virtually any dress form. Especially useful for testing elbow position or sleeve length, these pieces turn a standard mannequin into a dress form with arms. They allow you to design and construct a garment that fits you, your client, or your model perfectly. Their wide twill tape straps pin onto the mannequin's shoulders for a quick, easy, and secure fit. Our flexible mannequin arms bend wherever you wish, which allows you to work comfortably on your project. To transform your armless bust into a dress form with arms, choose from Regular or Plus Size models and get started on your next short or long-sleeve project.
Pinnable, bendable arms for any dress form.